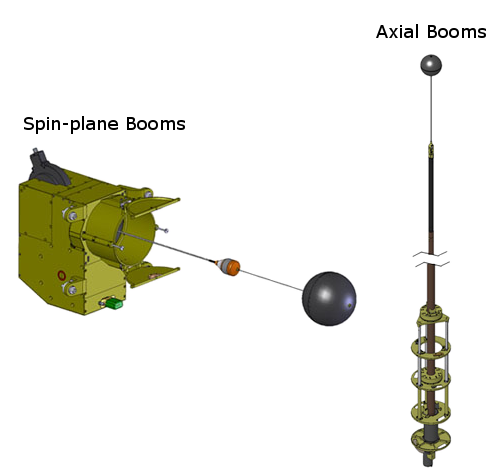 Physical Stats
The Electric Field and Waves Instrument Suite consists of:
Four spin-plane electric field antennae. One pair extends 130 feet from the probe, the other 164 feet. Each boom consists of a cable with the same thickness as a fishing line, terminating in a metal sphere, where the actual measurement is taken. The centrifugal force of the probe's rotation holds the booms in place.
Two spin-axis electric field antennae. They are tubular, extendable, and rigid. Each extend 40 feet, terminating in metal spheres. All six antennae tuck into the probe at launch and extend once the probe reaches orbit.
The actual signal processing is performed by the Digital Fields Board, provided by the University of Colorado at Boulder Laboratory for Atmospheric and Space Physics.
Measurement Quantities
The EFW Suite will measure the following quantities:
Spin-plane component of the electric field at DC-12 Hz with 0.05 mV/m accuracy
Spin-axis component of the electric field at DC-12 Hz with ~3 mV/m accuracy
Electric and magnetic field spectra between 1 Hz and 12 kHz at 6-second cadence for components quasi-parallel and quasi-perpendicular to the magnetic field
Spacecraft potential estimate covering cold plasma densities of 0.1 – 100 cm-3 at 1-second cadence
Burst recordings of high-frequency electric field and magnetic field waveforms and individual sensor potentials for interferometric analyses.