The RBSP mission consists of twin probes that will orbit the Earth in near-identical, eccentric orbits. They will primarily study the Van Allen radiation belts. The probes have the capability to make measurements that discriminate between spatial and temporal effects, and will compare the effects of various proposed mechanisms for particle acceleration and loss. The mission's specific goals are to:
Discover which processes accelerate and transport ions and electrons
Understand and quantify electron loss and determine the balance between competing acceleration and loss.
Understand the effects of geomagnetic storms on the radiation belts.
Obtaining a deeper understanding of space weather near Earth is vital to a continued presence in space. GPS satellites and other higher-orbit spacecraft often pass through or orbit in the radiation belts. The interactions between the solar wind, the radiation belts, and the magnetosphere can lead to hazardous conditions for both spacecraft and astronauts. Future interplanetary explorations and higher-orbit satellites will depend on shielding that will be informed by research into space weather. Space weather can also interfere with ground-based power grids, high-frequency radio communications, and aircraft navigation, particularly for trans-polar flights.
About the EFW Instrument
The EFW instrument (Electric Field and Waves) is an instrument designed to study electric fields in near-Earth space. It consists of 4 spin-plane electric field antennae and 2 spin-axis tubular extendable booms. The spin-plane booms consist of cables roughly the thickness of a fishing line, and are held in place by the probe's rotational motion. The spin-axis booms are rigid.
The presence of an electric field instrument on RBSP is motivated by the fact that the dynamics of the Van Allen radiation belts are entirely due to particle energization, scattering, and transport or acceleration by electric and magnetic fields. Furthermore, in collisionless plasmas, the electric field is responsible for all observed particle acceleration. Particle acceleration occurs from large-scale electric fields associated with global circulation of plasma in the magnetosphere, down to small-scale structures in the plasma density. Particle acceleration occurs from slow pumping of particles by ULF waves up to scattering and energization by high-frequency whistler waves.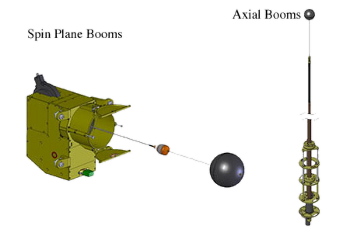 The EFW Suite will investigate:
Energization by large-scale convection electric fields
Energization by substorm injection fronts propagating in from the magnetotail
Radial diffusion of energetic particles mediated by ultra low-frequency (ULF) magnetohydrodynamic waves
Transport and energization by intense magnetosonic waves generated by inter-planetary shocks impacting on the magnetosphere
Coherent and stochastic acceleration and scattering of particles by small-scale, larger-amplitude plasma structures, turbulence and waves (electromagnetic and electrostatic, ion cyclotron waves, kinetic Alfvèn waves, solitary waves, electron phase space holes, and zero-frequency turbulence.